Rating: B
Dir: Michael Rohl
Star: Bentley Mitchum, Nicole Nieth, Sarah Douglas, Andrew McIlroy
a.k.a. Hell Mountain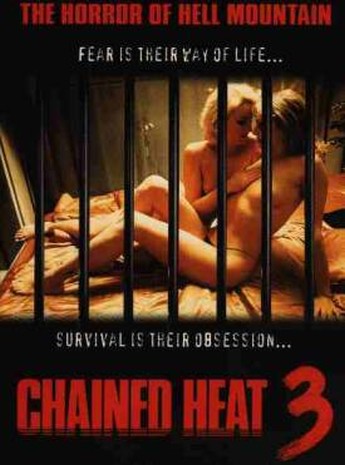 Undeservedly overlooked at this year's Oscars, this is actually a retitling of a film called Hell Mountain, and has all the hallmarks of a tedious cash-in. You'd be half right; while nothing to do with the 1983 classic, as post-apocalyptic soft-porn B-movies go, it's not at all bad. And, believe me, I've seen enough to know how bad it can get. Fortunately, CH3 is set in a future where fertiliser and guns are in short-supply, but civilization still has an abundant supply of thongs and hair-stylists. The plot/excuse has a village exchanging their nubile young girls with an evil (and disfigured, natch) man who runs the fertiliser mine. This peeves one of the boyfriends, who looks like Kyle McLachlan, but sadly possesses none of the quirky wit. Oh, and all teachers bar one have been exterminated.
This is all irrelevant: what you expect from a women-in-prison film is a) lingerie or less, b) mild misogyny, and c) gratuitous shower scenes, and this film is quite excellent at showcasing these three elements. All three combine in an utterly amazing 3 1/2 minute sequence of prisoners, clad in loose, torn shirts, dragging rocks around, at the end of which they are all grubby and need to be hosed down. Ludicrous volumes of blonde Czech totty add to the fun, and the bad guys (most notably Andrew McIlroy) are every bit as evil as you could hope. 90 minutes of this would be perfect, but the hero is so flat and uninteresting (the opposite of the blonde Czech totty, in fact) that the film grinds to a halt whenever he appears. It's not even as if his girlfriend is a shrinking violet, she's trying to escape just as hard as he's trying to rescue her.
However, there's still more than enough to keep you interested here – with the obvious caveat that "you" have to appreciate this sort of thing. The production values aren't bad [medieval post-apocalyptic chic doesn't cost much, admittedly] and the actors are, with previously noted exceptions, competent enough. There's also enough imagination gone into this to make me wonder whether this was a Fred Olen Ray production. Not quite up there with the original, or all-time WiP favourite Reform School Girls, but certainly much better than expected and a fine piece of trash cinema.